Luca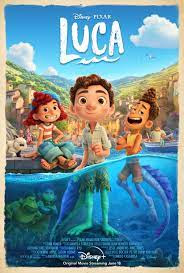 Luca is a 2021 heartwarming film about a sea monster named Luca Paguro. Luca is a sea creature who is curious about the world above the water. However, Luca's parents prohibit this because of their past with humans; they would do anything to keep their boy in the ocean. Luca ends up finding another sea monster named Alberto Scorfano; he helps Luca escape from his parents. Both boys crave adventure and discovery, which they find in a Vespa (a Vespa is like a scooter mixed with a motorcycle). They venture to a little town called Portorosso in hopes of getting a Vespa; however, they realize it will not be so easy to get one. A human girl named Giulia Marcovaldo helps them achieve their goals while also achieving some of her own. But it is only a matter of time till his parents find him and punish him for leaving.
The Main cast for Luca includes Jacob Tremblay who voices Luca Paguro, our whimsically pure protagonist. Jack Dylan Grazer who voices Albert Scorfano, our sarcastic and playful boy who helps the protagonist. Emma Berman who voices Giulia Marcovaldo, the fiercely brave friend of the protagonist. Saverio Raimondo voices Ercole Visconti, the cunning antagonist. Maya Rudolph voices Daniela, Paguro Luca's mom, and Jim Gaffigan who voices Lorenzo Paguro Luca's dad. 
According to Rotten Tomatoes, 91% of movie watchers loved the movie. Those who were interviewed had nothing but amazing commentary on the film. Sarina Hernandez, a senior at IHS, exclaimed, "It made me feel inspired and like a kid again. It helped me appreciate friendships." Alexis Accosta, a senior at IHS, noted that  "it is really one of those movies that you can't forget" 
Berman, who voices Giulia, proudly stated, "The story has some great lessons to it like never judge a book by its cover, and I hope all the audiences old and young learn to silencio Bruno and go with their hearts desire". Kid movies are for everyone. Not only do they have humor any age can enjoy, but they also leave a positive impact on kids. Hernandez claims, "It's a very educational movie that helps in life with relationships and telling the truth". While it installs good morals, Accosta claims that "It's for sure a movie to watch with kids or kids that are questioning themselves". She further explains how she felt a vibe between the two main characters and saw how kids can find comfort in seeing their relationship being normalized. 
In a cast interview, all the members had nothing but enchanting descriptions of the movie. Grazer passionately asserted, "I love the dynamic between Luca and Alberto. They balance off each other really really well, it's like the two personalities are really unique, and really special, really particular to each other and comedically it's like a really perfect match." He describes the Little place in Italy as  "stunning" and how "the colors are so vibrant." He encourages people to watch because "this movie, Luca, will without a shadow of a doubt transport you to this awesome vibrant lively summer." 
As a movie watcher and someone who works with kids, I would recommend this to anyone who wants to see a movie both adults and kids can laugh together with. This movie creates a fun opportunity to unwind with loved ones.