Swim Team Makes A Splash at Indy!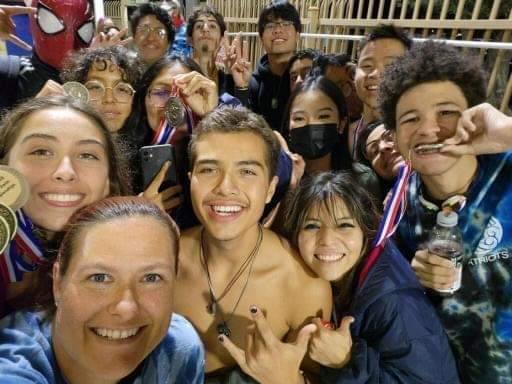 Independence's swim team blew everyone out of the water by meeting all expectations and beyond in the 2021 fall season.
Coach Kyle Hallum considers success to be a process. It's all about breaking through to new levels of achievement, through repetition. His coaching attitude is "strive for improvement," and he believes that "practice doesn't make perfect, practice creates permanent." This is  contrary to popular belief. One must practice things correctly in order to do them successfully, or  else they will begin to execute them poorly. 
Hallum believes that in order to keep the team motivated, they need to figure out intrinsic motivation; all they needed to do was care. If they really want to improve, they'll take care of it on their own. 
The team rebuilt this season by focusing on substantially improving themselves due to the damage of last season by Covid. Hallum was incredibly pleased with their achievements and progress on all levels. They outperformed expectations rapidly and set themselves up for success. He expresses his gratitude to the students on campus that support the team by being directed and visible, as well as consistently encouraging everyone.
Hallum advises those considering quitting that it is "the easiest thing to start and the most difficult to stop."
One member of the swim team that contributed to their success was senior Diana Lizarraga.  She began swimming at the age of five and has continued for the past twelve years. It wasn't always easy to stay motivated and keep going, but she wanted to give it her best this year because it was her senior year. 
Prior to the start of the season, Lizarraga set a goal for herself to improve her hundred backstroke time from one minute and eight seconds to one minute and four seconds. She also desired a metal for her individual district events. This was not an easy task, and in order to progress and continue as the outstanding swimmer she is, she had to practice seven times a week for a total of 14 hours a week. Lizarraga triumphantly achieved all of her goals and became the first student from Independent High School to win a title in ten years. "Just do it," she advises anyone interested in trying out for or joining any sport.
Sophomore Maria Bustos Serrano, swim team member, said, "Being on the swim team is a lot of fun, and we always encourage each other, especially newbies, even if it can be difficult at times." Serrano said, "I start practice after school on Mondays and Wednesdays we finish at 6 p.m. For practice on Tuesdays, Thursdays, Fridays, I leave at 5 p.m." She chose to be on the swim team because she enjoys it, and while others may dismiss it as a simple sport, it can be challenging at times.
 The most difficult aspect of this season was the workouts they completed before entering the pool. Serrano advises other students who want to try out for swimming that it "is a lot of fun, and you have a complete team to support you even if you don't know how to swim."
She wants to attempt the individual laps and the 100-meter butterfly which entails swimming four laps and returning without stopping. The 200-meter is two laps of each stroke, starting with butterfly backstrokes, breaking strokes, and finishing with freestyles.
 There has never been a time when she wanted to quit the team because the people there made it stress-free, and being in the pool made her feel relaxed. Serrano explained, "I consider the swim team to be a family, and we are extremely supportive of one another, even during meets. Swimming allows me to spend time with myself while also allowing me to interact with others. Because I'm solely focused on swimming, it also relieves my tension from academics."
Senior Khang Ngyuen, top swimmer, began swimming freshman year, but he learned to swim at a younger age. He says that to have a good swim season, he spends 3 to 4 hours each day of the school week practicing his skills. He is very active in school sports and has to manage his time very well to maintain his grades. Ngyuen said, "I manage my school and sports by making effective use of my time". Ngyuen said that before practice he completes "as much homework as possible, and then finish the rest before going to bed."
 His days are very busy and require a lot of time management. He is a very competitive person, and although he does not want to pursue swimming after high school, he enjoys competing with others and winning.  To become a great swimmer, he often had to sacrifice hanging out with his friends and eating junk food. Khang mentions that his coaches are extremely "caring and supportive", and his teammates ¨are all so positive and encouraging". 
This year was great and the team achieved a lot of things. These athletes worked hard to get to where they are and pushed through every moment. Their dedication fulfilled their season, and they will be coming back next year even better.